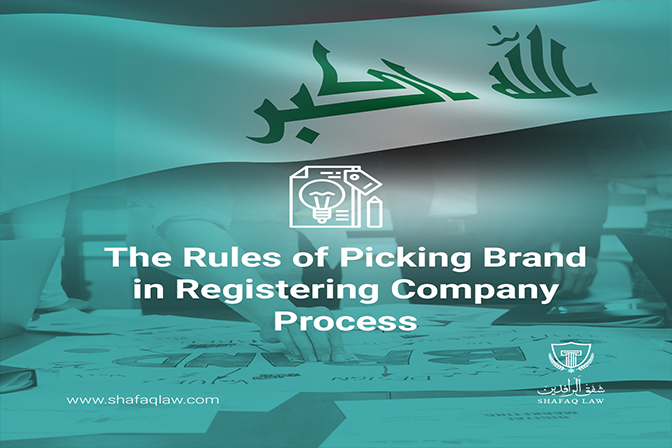 The rules for choosing a brand name in Iraq
The choice of an appropriate business name is one of the challenging tasks in registration. On the one hand, some people take their time picking a name or spend a lot of time looking up guidelines and solutions; on the other hand, other people lack imagination and precision when picking a name. In this regard, we would like to first examine the laws and regulations of Iraq before looking at the principles and procedures to choose the best name for a business brand or corporation. We are an Iraqi company with more than 12 years of experience in the field of consulting employers.
According to Article 6 of Iraqi Law, which was approved in 1985, the brand name should not have the following conditions:
1) A name that is against modesty or politeness
2) Noun without distinguishing adjective
3) A name that indicates that the company is one of the government institutions or one of its subsidiaries.
4) A name that does not correspond to the actual commercial or industrial activity or misleads the audience about your activity.
5) Non-Arabic or Iraqi name unless it is the name of a branch of a foreign company licensed to operate in Iraq.
After submitting the proposed name to the Chamber of Commerce and Industry, the requested name will be checked within a limited period of time and the result will be announced, after which you will have 30 days to protest or change the name.
Let's check some solutions for choosing the right name for the business:
The 4 main principles of choosing a name are "1) being a creative name, 2) an unforgettable name that is engraved in the mind, 3) simple and convenient, 4) unique and different from the names heard before."
If possible, have a think tank or consult with several people to evaluate the selected names from other people's point of view while providing more suggestions.
You have your chosen names written at the moment.
As much as possible, avoid choosing the name of a geographical area or a product and a single field of activity! The development of your business can be opened and you can limit your scope in the future with names specific to a region or an activity.
Get help from the internet! Make sure your name translates into other major international languages. Also, by searching the names you want up to this point on the Internet or on government sites related to signs or publication of company registration, you can check to some extent whether there are companies with the same name or not.
At the end, you will have a list of several selected names, now apply for your business name registration. Good luck!